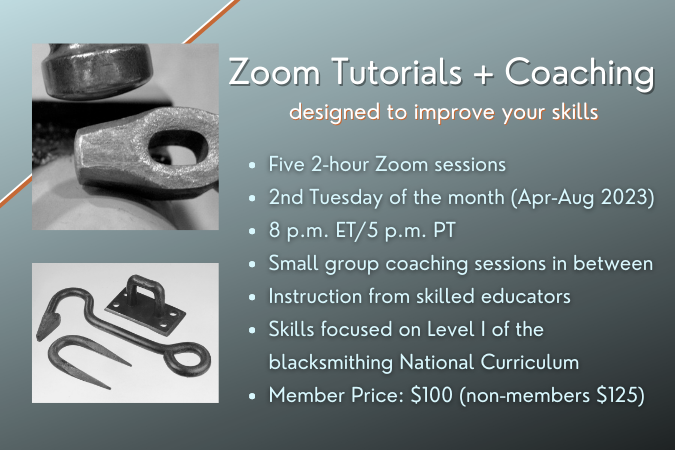 Note: This class is FULL! There was an overwhelming response to this class offering and we're delighted to see that kind of interest in the National Curriculum and in blacksmithing in general. We added extra coaches to handle the size of the class and we are planning to run another Level I class in 2023. Add your information to our Education Email list to be notified about upcoming classes.
The course consists of 5 two-hour Zoom sessions plus small group coaching sessions in between.  Zoom sessions will be held the 2nd Tuesday of each month from April through August of 2023.  All Zoom sessions will be recorded and made available to participants (typically within a week) to review or to catch up if you cannot attend a session. Participants will be broken into small groups and assigned to one of the instructors to receive coaching in between the Zoom sessions.
Participating Instructors include:
Drew Buckingham of White Flint Creations in Maryland
Bud Harvey of Hot Iron Blacksmith School in Illinois
Daniel Sutton of Sutton Industrial Arts in Indiana
David Walker of Fire Iron Forge School in Idaho
Otto Engel of Innovation Forge Classes in Colorado
Victoria Ritter, National Curriculum Instructor (CA)
Becky Schimpff, National Curriculum Instructor (CA)
Registration has been turned off. This class is FULL.